Leavenworth Rockfest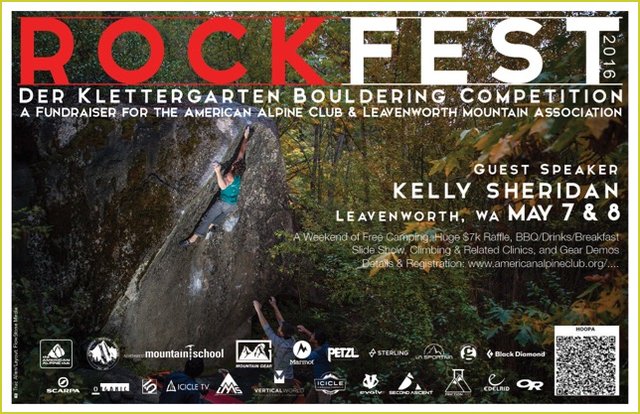 Rockfest has not been running during the covid situation and had become a solid, regular fundraiser and awareness event hosted by the Leavenworth Mountain Association. Keep an eye out here to see if it is revived. This is a great way to support the
Leavenworth Mountain Association
, a group comprised of local climbers that has been hosting the annual
Icicle Cleanup
and helping with issues created by the popularity of climbing in the Leavenworth area.
Der Klettergarten Bouldering Comp:
Grab your team of 3 and participate in the third annual bouldering comp presented by Leavenworth Mountain Association (LMA). Icicle Canyon boasts some of the finest bouldering in North America and this year's event has teams of 3 battling for the highest combined score for climbs completed between 9 am and 4 pm. $50 per team includes competition entry for your entire team plus dinner and breakfast following the event.
Der Klettergarten Details
Climbing Clinics:
The Northwest Mountain School and Rockfest sponsors will once again be hosting half-day climbing clinics with morning (9 am-noon) and afternoon sessions (1-4 pm) available. Cost to pre-register is $35 per person and includes dinner and breakfast at Fromm's. Limited registration will be available if space remains on the morning of the event for a slightly higher price of $40.
Rockfest Clinic details
Kelly Sheridan Slideshow:
Kelly has a long association with the Leavenworth bouldering scene and is the author of the past two guidebooks to bouldering around Leavenworth. He will share stories surrounding the evolution of bouldering in the area and the development of his latest guidebook. Slideshow starts at 8:30 pm Saturday with the opportunity to meet Kelly at the party before.
Camping at Fromm's Field & BBQ:
The AAC has reserved Fromm's Field in Leavenworth for the weekend and participants are invited to camp, eat, and relax at this amazing meadow along the river just off Icicle Road. Petzl, Black Diamond and Mountain Gear will once again be providing dinner and breakfast to all festival participants. Friday night Update! If you are looking for a place to camp
Friday night you can go to Fromm's and pay the owner $6 for Friday.
Getting to Fromm's Field:
This is located at the end of Wilson Street off of Icicle Road. To get there from US Highway 2, follow Icicle Road 1.1 miles from US Highway 2 and then turn left (East) onto Wilson Street and follow it to the very end of the road and the entrance to Fromm's.
Cost:
$10 = Dinner & Breakfast

$15 = Camping at Fromm's

$35 = Clinic Admission

$50 = Bouldering Comp (3 persons)
Previous Rockfest Videos-Photos:
Financial Implications
All proceeds from Rockfest go to support the American Alpine Club. Sponsors cover all costs of food, clinics, and the bouldering comp.
$10 buys you dinner, breakfast, and beverages.

$15 to camp at Fromm's

$35 to take a climbing clinic, which includes dinner, breakfast, and beverages.

$50 is the entry fee for a team of 3 to the bouldering comp and includes dinner, breakfast, and beverages. The cost of clinics and the bouldering comp is based on pre-registration, which ends at 5 pm on Thursday, June 11th. Registration will be available on the day of the event for slightly higher prices if space is still available. Space is limited, so pre-register here
Historic Rockfest Schedule
8:00-8:45 am: Check-in for morning clinics and/or bouldering competition by the US Forest Service kiosk in the parking area behind Barney's Rubble. All morning clinics will start promptly at 9:00 am, so arrive early to make sure you have time to register, pack, and get oriented.
9 am - noon: Morning Clinics will take place within walking distance of the parking area.
noon-12:45 pm: Check-in for afternoon clinics. You may also check-in for the afternoon clinics from before noon
1 pm - 4 pm: Afternoon clinics will take place within walking distance of the parking area
4 pm - 6 pm: Climber pre-funk at Fromm's Field. Beverages included in your rockfest, clinic, or bouldering competition fee.
6 pm: Dinner served
7 - 8:30 pm: Raffle, climbing games, socializing.
8:30 pm - Close: Kelly Sheridan slideshow
2nd Day Historic Rockfest Schedule
7 am: Hot breakfast provided by Mountain Gear
8 am - 11am: Pack up and head out for a day of climbing and Rockfest close.
Rockfest Sponsors
Rockfest is a collaborative fund-rasing event for the
American Alpine Club Cascade Section
made possible by the following companies and organizations:
Supporting Organizations:
Chelan County Search and Rescue
,
Icicle TV
,
Leavenworth Mountain Association
,
Solid Rock Climbers for Christ
and the
US Forest Service

This program takes place on US Forest Service lands under a commercial-outfitter and guide permit. The U.S. Department of Agriculture (USDA) prohibits discrimination in all its programs & activities and is an equal opportunity provider and employer.