Northwest Mountain School Gift Certificates
Looking for the perfect gift for the climber or skier in your family? We will print up a classy gift certificate and mail it directly to the recipient or purchaser. Gift certificates can be purchased in any amount or for a specific program. Feel free to call the office for details at 509-548-5823.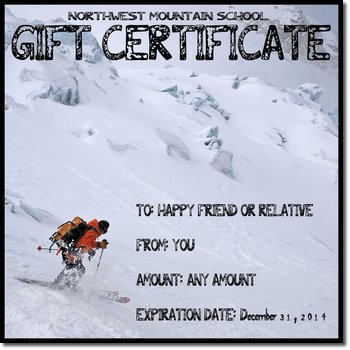 How to purchase gift certificates
Call the office at 509-548-5823 to make sure we can accommodate your gift choice.

Make an online payment here You may use your credit card for gifts up to $500 in value. For larger gifts, we request that you pay by online check using our online payment system.

Upon receipt of payment we will print and mail a gift certificate to either you or the recipient. These can be customized for a specific trip.
How to redeem gift certificates
Call the office at the number above to confirm that we have space on the program you choose.

Complete your online application here.

After applying for the course and submitting your application, contact the office to finalize billing details. If you select a trip that costs greater than the amount of your certificate we will invoice you for the difference.
All payments are subject to our usual
terms and conditions
.
Worried they won't redeem their gift?
These are valid for 1 year from the date of purchase and are transferrable. If the recipient decides not to use it, they can gift it to another person or sell it. The gift certificate is valid for the full amount purchased. We can't refund any value that the redeemer does not use. Once used to apply for a course the gift certificate is treated as payment for the course and is subject to all of our usual terms and conditions. Prior to registration, however, this can be given to another person.