The Northwest Mountain School Guide Staff
In addition to
John & Olivia Race
, the Northwest Mountain School utilizes a variety of other guides. These local climbers are selected for their climbing skills, their ability to provide a professionally run program, and personalities that make any day of climbing or skiing enjoyable. The basic requirements for employment include a minimum of a Wilderness First Responder (WFR) certification and a CPR certification. While American Mountain Guides Association (AMGA) certification is not required for work with Leavenworth Rock Guides or Northwest Mountain School, it is preferred. As the US is not yet a credential based system (i.e. where guides are required to be certified) it is expected that individuals will do some guiding prior to obtaining their certification and we are happy to provide a venue for these excellent guides to work toward AMGA certification.
Adam Butterfield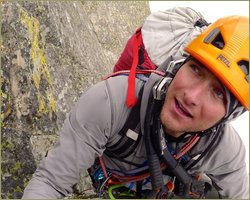 Adam cut his teeth climbing around the northeast in his early teens. He started guiding in Acadia National Park in Maine in 2007, where he took clients rock climbing along the beautiful Atlantic sea cliffs. During the rest of the year Adam studied Religion and Psychology at the University of Vermont. At school he worked as an outdoor climbing instructor for the Outing Club teaching ice and rock climbing to his peers. Adam left the east coast in 2012 to search out bigger mountains and higher cliffs. He nows spends most of his time in Washington. He also has his W-EMT certification.


Dallas Glass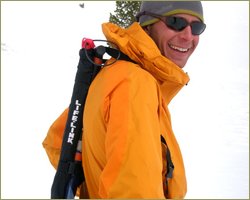 Dallas began his love for climbing mountains by pulling on steep southern sandstone in the hills surrounding his home in Alabama. He graduated from Clemson University with a B.S. in Forest Resource Management, and moved west to pursue a master's in Hydrology and Soil Physics at the University of Nevada. After completing his master's degree, he began to split his time working in Alaska as a wilderness ecologist and at Mt Rose Ski Tahoe as the avalanche forecaster. Dallas and his wife moved to Seattle in 2012. Now he spends his winters working as the Deputy Director for the Northwest Avalanche Center and his summers guiding rock and alpine adventures. Over the years he has guided successful summits in Nepal, Tibet, Mexico, Alaska, and Washington. When not in the mountains, you can find him out for a long run, or cooking up a delicious dinner with his wife.
Kurt Hicks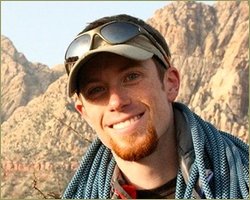 Kurt is an IFMGA Mountain Guide. From his Seattle home base, he guides full-time, year-round throughout the United States and Canada. Kurt has a degree in Resource Recreation and Tourism and is also an AIARE avalanche instructor. When he's not out guiding and instructing, he enjoys climbing new routes in the Cascades and exploring the region's phenomenal ski touring. Kurt is the author of the guidebook,
Snoqualmie Rock
, and lives in Leavenworth with his wife Celeste and their child.

Pete Keane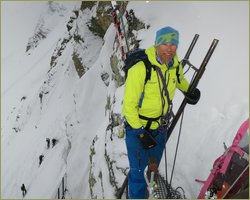 Pete primarily guides for NMS in Europe and is the owner/director of Timberline Mountain Guides. Pete started climbing in 1982 and guiding in 1989 and is a member of the AMGA Instructor Team where he trains the next generation of certified guides. Pete has extensive climbing experience including ascents of routes such as Denali's Cassin Ridge, Ham and Eggs on the Moose's Tooth, Kahn Tengri in Kyrgystan, and has made an attempt on the Bonnington Route on the South Face of Annapurna I. Pete lives with hi wife Julie in Bend, OR and his two sons. We love working with Pete because he is solid, funny, and above all really fun to be in the mountains with.

Andres Marin
Andres is from Ibague, Colombia and learned to climb in the central mountains of Colombia. Andres came to the United States in pursuit of the AMGA/IFMGA certification, with the goal of becoming the first Colombian IFMGA guide. After his certification process is finished, he plans to take his education back to the guides in Colombia. Andres' philosophy is to be kind, be happy, and try hard. A recipient of the Mugs Stump Grant, Andres has represented the US in the Ice Climbing World Cup for the past 3 years. He is currently an AMGA certified Rock and Alpine Guide and working towards his ski certification. Andres has a very deep personal climbing resume including difficult mixed lines (up to M12), and challenging big walls in Yosemite, Zion, the Fisher Towers, and Columbia. He has guided on Denali and Mt. Rainier for many years now.

Jordan Mynatt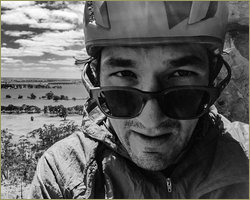 Jordan's devotion to climbing began on the sandstone cliffs in Tennessee, but his love for the mountains ignited when he thru-hiked the PCT for his honeymoon in 2009. He has rock climbed extensively throughout the U.S. as well as Canada, Chile, Australia, New Zealand, Thailand, Vietnam and Jordan. The alpine is where he comes to life. Jordan has summited all of the Cascade Volcanoes in WA state, Mt. Aspiring in New Zealand, and completed the 6,000m traverse from Makalu Valley to Everest via the Sherpa, West and Amphu Labsta passes. Jordan has experience as a local rock and alpine guide, leading the wilderness program for five years at Tall Timber. Since Jordan joined Northwest Mountain School in 2014, he has been working through the process of becoming an AMGA certified rock guide. He has completed the AMGA Alpine Guide Course, the AMGA Rock Guide Course and the AMGA Advanced Rock Guide Course. On his off days, Jordan will be found crafting wood into artisan furniture in Plain.

Ian Nicholson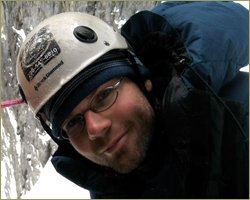 The first thing you will quickly realize about Ian is his never-ending stoke to be out sharing the mountains with people, whether on rock, on glaciers or on skis; and his passion to be out in the mountains has been known to spur people to greater heights. Ian is an internationally licensed IFMGA/UIAGM mountain guide, meaning he is certified as an Alpine, Rock and Ski guide through the AMGA. Some of Ian's experience ranges from having established over a half-dozen first ascents in his home range of the Cascades as well as opening new routes in farther-off regions such as the Waddington Range, Patagonia and the Alaska Range. Ian has also authored a local climbing guidebook entitled SuperTopo: Washington Pass Climbing and is a Senior Editor for OutdoorGearLab and occasional contributor for Climbing Magazine. Ian is AIARE Level III certified, and is an AIARE Level 1 and Level 2 Course Leader and has instructed over 50 avalanche courses.

Matt Primomo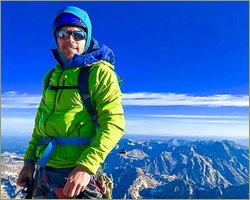 Matt lives in Leavenworth, WA and likes to explore his home mountains year-round. He has been guiding in the mountains since 2005. Matt is an AMGA certified Ski Guide and Lead Instructor through the AIARE.. He has taken the AMGA Rock Guide Course and Alpine Guide/Ice Courses. He holds a bachelor's degree in Geography from the University of Colorado, and an associate degree in Outdoor Recreation Leadership from Colorado Mountain College. In the winter he works as a forecaster for the Northwest Avalanche Center, and has extensive experience as an avalanche specialist with many organizations. Matt also works with Exum Mountain Guides, and previously with Rainier Mountaineering, Inc. He has experience climbing and skiing in Chile, Peru, Bolivia, throughout the western US. and Alaska. When he isn't working you'll find him enjoying the mountains with his wife, climbing, surfing, working on the house, sharpening snow saws for his company Primo Snow and Avalanche, or attempting to cook Italian food as well as the rest of his family.

John Race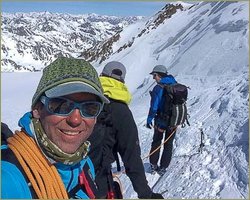 John began guiding in 1989 and founded the Northwest Mountain School in 1994. He became the 30th person in the US to reach IFMGA status in 2006. Early in his career he focused on expedition climbing and he participated in 23 Denali trips (with 19 summits), 6-8000 meter expeditions (Everest, Cho Oyu, Shishapangma), 5 Aconcagua trips, Elbrus, Kilimanjaro, Antarctic Peninsula, Shackleton Ski Crossing of South Georgia Island as well as the usual repertoire of guided routes in Washington, Europe, and Alaska. He has spent the last 14 seasons ski touring in the Alps, usually starting the ski season leading ski tours in Japan. John is the past Vice President of the AMGA and served on the AMGA Board of Directors for 6 years. Somewhere in there he climbed Rainier 169 times. John lives with his wife Olivia, also an IMFGA guide in Leavenworth, WA with their two children. His family is currently working hard to become more proficient sailors in hopes of an extended family ocean based expedition.

Olivia Race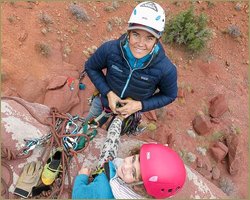 Olivia always knew she wanted to work outside, but did not begin climbing or skiing until her early 20s. Several seasons working for the Stevens Pass Ski Patrol led to work as a Rainier guide. In her first year of guiding she managed to climb Cho Oyu, the world's 6th highest mountain. Olivia spent the early 2000s guiding intensely and training for her IFMGA license, which she finished in 2007, becoming the 3rd woman in the US to do become an IFMGA guide. Olivia enjoys all aspects of climbing and skiing. She has lead a successful 8000m peak expedition, summited on 8 of 10 guided Denali expeditions and guided and lead expeditions to many parts of the world. She is most passionate about technical rock climbing and backcountry skiing. Desert climbing clinics and week-long ski tours in the Alps are highlights of her year. Olivia joined the AMGA instructor team in 2013 to continue her own education and share her knowledge & experience with the next generation of guides. When not guiding, and running the NMS office, Olivia is happiest spending time outside with her family. While her children will not remember learning to ski or climb they will likely surpass her in all sports before they can legally drive.

Timmy Rickert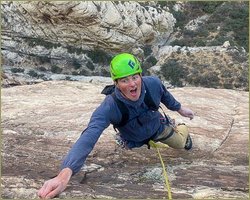 Timmy is a New York native but has been spending the past winters in Bozeman Montana. He completed the Expeditionary Studies program at Plattsburgh State in NY, and when not in class he would often be found on the steep cliffs at Poke-O-Moonshine. The Adirondacks will always carry weighted memories but he enjoys a bike ride to a desert tower, and various climbs throughout Red Rock Canyon in NV. Timmy is a Wilderness First Responder (WFR) and a Single Pitch Instructor (SPI), and is beginning the process of working through the AMGA guide track.

Dale Remsberg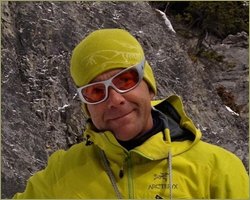 Dale is an internationally licensed Mountain Guide (IFMGA) and Technical Director of the American Mountain Guides Association (AMGA). Never one to focus on a single aspect of climbing, Dale is an accomplished all around climber with high-end skills that cover all disciplines of climbing including; sport, trad, mixed, ice and alpine. His passion depends on the season, feeling equally happy on WI6, M8 or 5.12. Whether climbing in Switzerland, climbing his local crags in Eldorado Canyon, seeking perfect untracked powder around the world, or mastering techniques for classic ice routes in the Canadian Rockies, Dale loves helping both new and experienced climbers and skiers achieve their goals. Whatever his endeavor, Dale's quiet determination and love of the mountains will generally ensure success with a smile on his face.

Austin Shannon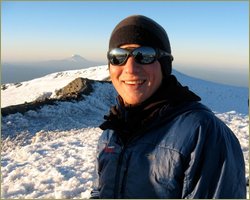 Austin Shannon grew up in Bend Oregon where his love for the mountains began. He followed that passion to Colorado for college at Colorado Christian University. During His time in Colorado he enjoyed all that it had to offer, from rock climbing and ice climbing, to snowboarding and mountaineering. One of the most influential times in his life was when he spent a semester in Patagonia, Chile with the National Outdoor Leadership School where he learned to be comfortable and survive in any outdoor environment. Austin is a certified Leave No Trace educator and a Wilderness First Responder. He has now returned to the Northwest to further his passion for being in the outdoors.Austin has been working as a professional mountain guide since 2008.  Since his beginning as a guide he has worked all over the Oregon, Washington, Nevada, and California--as well as Alaska and Mexico.

Joey Thompson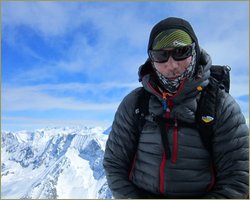 Joey grew up climbing and skiing in New York but his love of big mountains quickly led him west to Colorado, where he now lives with his wife Susan. Joey recognized the profound satisfaction that came with seeing and helping others enjoy mountain adventures the way he does. Through the education and training he received through the American Mountain Guide Association, Joey has made this his life's work. The AMGA recognized Joey as the 2013 Outstanding Guide of the Year for exceptional dedication to his mountain craft and clients. In 2014 Joey achieved International Federation of Mountain Guides Association status and became a fully certified American Mountain Guide. Joey currently guides throughout the Northern Rocky Mountain from Colorado and Wyoming all the way to Alaska.

Ben Weaver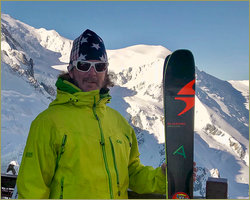 Ben began his lifelong pursuit of mountain adventures in the Adirondacks and White Mountains. After College he loaded up and moved west to continue that pursuit in the Pacific Northwest's volcanoes and the North Cascades. Over the past 20 years he has spent time climbing in Alaska, Europe, South America, and all over the major mountain ranges of the Western US. He has worked as a professional ski patroller, ski guide, and AIARE course leader for the past 10 years. Additionally he has spent several working as a volunteer with the Denali Climbing Rangers where he also serves as a board member. Ben is an AMGA ski Aspirant, holds a Master's degree in Anesthesia and works as a certified Registered Nurse Anesthetist when not in the mountains.
Travis Weil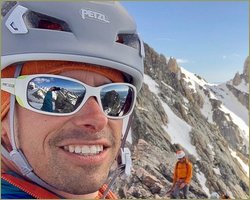 Travis started climbing while attending college in southwest Missouri. He quickly fell in love with climbing and began teaching climbing for the college. This led him to pursue the AMGA Single Pitch Instructor certification which then led him to North Carolina where he worked for Fox Mountain Guides for 8 years. During that time he developed as a rock guide and became a Certified Rock Guide in 2017. He also started to have a desire for bigger mountains which led to him moving to Washington in 2019 where is working on his alpine guide certification and working as a ski instructor for Stevens Pass Mountain Resort.