The Northwest Mountain School Guide Staff
In addition to
John & Olivia Race
, the Northwest Mountain School utilizes a variety of other guides. These local climbers are selected for their climbing skills, their ability to provide a professionally run program, and personalities that make any day of climbing or skiing enjoyable. The basic requirements for employment include a minimum of a Wilderness First Responder (WFR) certification and a CPR certification. While American Mountain Guides Association (AMGA) training and certification is not required for work with Leavenworth Rock Guides or Northwest Mountain School, it is preferred. As the US is not yet a credential based system (i.e. where guides are required to be certified) it is expected that individuals will do some guiding prior to obtaining their certification and we are happy to provide a venue for these excellent guides to work toward AMGA certification.
Adam Butterfield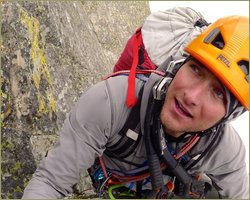 Adam cut his teeth climbing around the northeast in his early teens. He started guiding in Acadia National Park in Maine in 2007, where he took clients rock climbing along the beautiful Atlantic sea cliffs. During the rest of the year Adam studied Religion and Psychology at the University of Vermont. At school he worked as an outdoor climbing instructor for the Outing Club teaching ice and rock climbing to his peers. Adam left the east coast in 2012 to search out bigger mountains and higher cliffs. He nows spends most of his time in Washington. He also has his W-EMT certification. In the future Adam hopes to get his IFMGA certification.
Jared Bonea
Jared's climbing adventures began at 16 in California with a chalk bag and a pair of converse. A steady diet of climbing mags and Trad classics by Robbins, Chouinard and Long soon took him to the Big walls of Yosemite and later to crags, travels, and employment on each of the seven continents. Jared's love of adventure and passion for creating a safe, exciting, and engaging experience form the foundation of his guiding resume. Jared holds a B.A. and Graduate Certificate in Linguistics and when not guiding works as a professional Firefighter/Paramedic (IAFF). Jared is also a Wilderness/High Altitude rated paramedic, FEMA rated Disaster Medical Specialist and Emergency Medical and Technical Rescue educator. Jared holds AVI II certification, and is a Leave no Trace Trainer. He lives in Tacoma, WA with his wife and two young daughters.
Tico Gangulee

Tico is a native of upstate New York, and started learning to climb in the Gunks in the early 90's. Since then, he's visited all 50 states and climbed rock in 41 of them, and is still learning subtleties and tactics in the art of climbing. Highlights of his career include helping to lead the first disabled Nose-in-a-day, spending way too much time in the desert, and shredding the champagne powder of his current home in Utah. Tico has a BA from the University of Pennsylvania, is a WFR, has completed an AIARE Level 3 course, and is an IFMGA guide.
Dallas Glass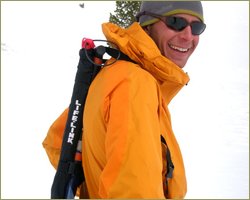 Dallas began his love for climbing mountains by pulling on steep southern sandstone in the hills surrounding his home in Alabama. He graduated from Clemson University with a B.S. in Forest Resource Management, and moved west to pursue a master's in Hydrology and Soil Physics at the University of Nevada. After completing his master's degree he began to split his time working in Alaska as a wilderness ecologist and at Mt Rose Ski Tahoe as the avalanche forecaster. After five years of avalanche forecasting in the Sierra, Dallas moved to the Seattle area where he works year-round as a mountain guide. In addition to guiding, Dallas is involved in the avalanche/ snow science industry on both regional and national levels. He works regionally for the Northwest Avalanche Center (NWAC) as the field observer for Stevens Pass, Snoqualmie Pass, and Mt Rainier areas. Dallas also serves on the Education Committee for the American Avalanche Association and coordinates AAA's professional level AVPRO course. Dallas holds a Wilderness First Responder, AAA AVPro certification, AIARE Level 3 certification, and is a certified AIARE Level 1 and 2 course leader.
Matt Hartman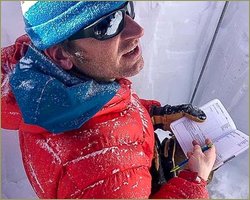 Matt comes to the Northwest Mountain School with a passion for all types of climbing; rock, ice, alpine and skiing. He has climbed extensively in the Western United States, particularly the Wind River Range, Utah Desert, and Pacific Northwest. He began guiding in 2008 with the National Outdoor Leadership School, working over 120 weeks as a climbing, ski and mountaineering instructor. Matt has also taken 2 personal expeditions to Argentine Patagonia, summiting Fitzroy and several smaller peaks in the region. Matt's mountain philosophy is simple, do what is best for the conditions and keep a dedicated path to being a well rounded climber. This has lead him to the Kumaon Himalaya in India, a quest to climb 100 desert towers, a ski traverse of the Wind River Range, first scents in Colorado and Wyoming, and lots of sunny sport climbing. AIARE 3 certified. Matt is an AMGA certified rock guide and is working his way through the certification process with the goal of becoming an IFMGA guide.
Kurt Hicks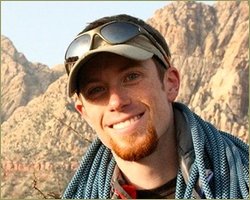 Kurt is an IFMGA Mountain Guide. From his Seattle home base, he guides full-time, year-round throughout the United States and Canada. Kurt has a degree in Resource Recreation and Tourism and is also an AIARE avalanche instructor. When he's not out guiding and instructing, he enjoys climbing new routes in the Cascades and exploring the region's phenomenal ski touring.
Joel Kauffman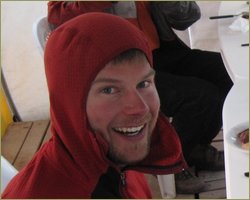 Joel's passion for climbing has led him on many exploits to the premier rock and ice venues. Alpine regions especially inspire and influence him. Joel has climbed internationally in Argentine Patagonia, the Italian Dolomites and Canada, as well as traveled to Mexico, Dominican Republic, Switzerland, and Austria. Joel usually spends the winter climbing in Patagonia then two months in the Alaska Range before returning to work each summer for NMS. Joel has lately been working to hone his off-width technique and recently succeeded in climbing Fitzroy in Patagonia. Joel attended the University of Montana, Missoula where he received a B.A. in Biology with an emphasis on Ecology (2004) as well as an education in the climbing to be had in the state that literally means "mountainous."
Pete Keane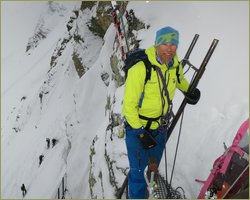 Pete primarily guides for NMS in Europe and is the owner/director of Timberline Mountain Guides. Pete started climbing in 1982 and guiding in 1989 and is a member of the AMGA Instructor Team where he trains the next generation of certified guides. Pete has extensive climbing experience including ascents of routes such as Denali's Cassin Ridge, Ham and Eggs on the Moose's Tooth, Kahn Tengri in Kyrgystan, and has made an attempt on the Bonnington Route on the South Face of Annapurna I. Pete lives with hi wife Julie in Bend, OR and his two sons. We love working with Pete because he is solid, funny, and above all really fun to be in the mountains with.
Andres Marin

Andres is from Ibague, Colombia and learned to climb in the central mountains of Colombia. Andres came to the United States in pursuit of the AMGA/IFMGA certification, with the goal of becoming the first Colombian IFMGA guide. After his certification process is finished, he plans to take his education back to the guides in Colombia. Andres' philosophy is to be kind, be happy, and try hard. A recipient of the Mugs Stump Grant, Andres has represented the US in the Ice Climbing World Cup for the past 3 years. He is currently an AMGA certified Rock and Alpine Guide and working towards his ski certification. Andres has a very deep personal climbing resume including difficult mixed lines (up to M12), and challenging big walls in Yosemite, Zion, the Fisher Towers, and Columbia. He has guided on Denali and Mt. Rainier for many years now.
Chris Meder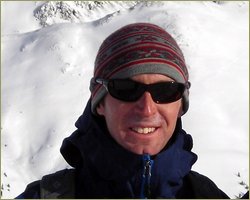 Chris has called Washington State home since 2004, and began guiding in 2007. He loves sharing the experience of the mountains with others, and feels lucky to be able to do so for a living. He has guided on Mt Rainier, numerous other peaks in the Washington Cascades, Mexico and Nepal. When not guiding, he spends time exploring the Cascades on backcountry skiing and climbing trips. Climbing and skiing have also taken him to most of the western U.S., Canada, France, New Zealand, and Thailand. He holds an Avalanche Level II certification and is a Wilderness First Responder. Chris also holds an engineering degree that gets used intermittently.
Jordan Mynatt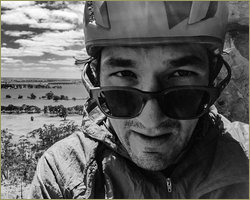 Jordan's devotion to climbing began on the sandstone cliffs in Tennessee, but his love for the mountains ignited when he thru-hiked the PCT for his honeymoon in 2009. He has rock climbed extensively throughout the U.S. and popular international destinations in Canada, Chile, Australia, New Zealand, Thailand, Vietnam and Jordan. The alpine is where he comes to life. Jordan has summited all of the major Cascade Volcanoes, Mt. Aspiring in New Zealand, and completed the 6,000m traverse from Makalu Valley to Everest via the Sherpa, West and Amphu Labsta passes in 2016. Jordan has experience as a local rock and alpine guide, leading the wilderness program for five years at Tall Timber. Since Jordan joined Northwest Mountain School in 2014, he has been working through the process of becoming an AMGA certified rock guide. He has completed the AMGA Rock Guide Course and AIARE Level 1 & 2. On his off days, Jordan will be found crafting wood into artisan furniture. He lives in a converted Sprinter van with his wife, Lyndsay, in Plain.
Ian Nicholson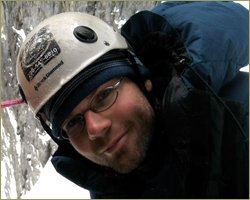 The first thing you will quickly realize about Ian is his never-ending stoke to be out sharing the mountains with people, whether on rock, on glaciers or on skis; and his passion to be out in the mountains has been known to spur people to greater heights. Ian is an internationally licensed IFMGA/UIAGM mountain guide, meaning he is certified as an Alpine, Rock and Ski guide through the AMGA. Some of Ian's experience ranges from having established over a half-dozen first ascents in his home range of the Cascades as well as opening new routes in farther-off regions such as the Waddington Range, Patagonia and the Alaska Range. Ian has also authored a local climbing guidebook entitled SuperTopo: Washington Pass Climbing and is a Senior Editor for OutdoorGearLab and occasional contributor for Climbing Magazine. Ian is AIARE Level III certified, and is an AIARE Level 1 and Level 2 Course Leader and has instructed over 50 avalanche courses.
Nick Pope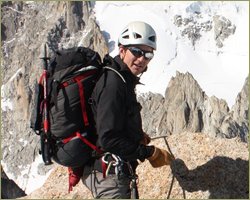 Nick began climbing in 1986 and started guiding in 2003. He completed his full IFMGA certification in the Spring of 2011. Enjoying a wide spectrum of climbing and skiing, his travels have taken him from skiing in the Alps to the big walls of Yosemite, from Canadian Rockies ice to Sierra Nevada alpine rock, as well as many places in between. Nick guides climbing and skiing in the mountains of the Pacific Northwest and Europe. He is an active volunteer with Portland Mountain Rescue and is a Wilderness First Responder. He has completed his AIARE Level III Avalanche Course and is a Course leader for AIARE Level 1 courses.
Nick's Photos
.
Dale Remsberg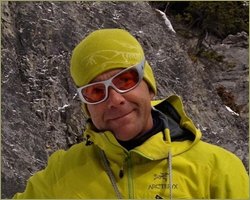 Dale is an internationally licensed Mountain Guide (IFMGA) and Technical Director of the American Mountain Guides Association (AMGA). Never one to focus on a single aspect of climbing, Dale is an accomplished all around climber with high-end skills that cover all disciplines of climbing including; sport, trad, mixed, ice and alpine. His passion depends on the season, feeling equally happy on WI6, M8 or 5.12. Whether climbing in Switzerland, climbing his local crags in Eldorado Canyon, seeking perfect untracked powder around the world, or mastering techniques for classic ice routes in the Canadian Rockies, Dale loves helping both new and experienced climbers and skiers achieve their goals. Whatever his endeavor, Dale's quiet determination and love of the mountains will generally ensure success with a smile on his face.
Austin Shannon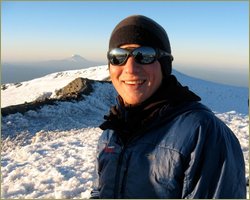 Austin Shannon grew up in Bend Oregon where his love for the mountains began. He followed that passion to Colorado for college at Colorado Christian University. During His time in Colorado he enjoyed all that it had to offer, from rock climbing and ice climbing, to snowboarding and mountaineering. One of the most influential times in his life was when he spent a semester in Patagonia, Chile with the National Outdoor Leadership School where he learned to be comfortable and survive in any outdoor environment. Austin is a certified Leave No Trace educator and a Wilderness First Responder. He has now returned to the Northwest to further his passion for being in the outdoors.Austin has been working as a professional mountain guide since 2008.  Since his beginning as a guide he has worked all over the Oregon, Washington, Nevada, and California--as well as Alaska and Mexico.   Austin continues to further his professional development through the AMGA working to attain his IFMGA certification.
Erin Smart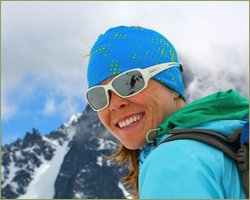 Erin Smart is a Seattle native who has dedicated her life to skiing and climbing in the mountains. She grew up skiing and climbing all over the Cascades of Washington State and has since spent several winters ski mountaineering in La Grave and Chamonix, France. Erin graduated magna cum laude from Western Washington University with a degree in Natural Resource Management. She splits her time now between Chamonix, Norway and Washington. Erin is an AMGA certified Ski Mountaineering Guide and is pursing the full AMGA/IFMGA certification.    
Einar Steinarsson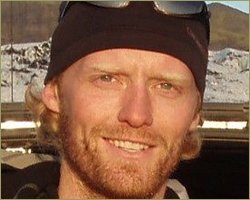 Einar began his guiding carrier in 2001 training the U.S Marine corps for winter survival in the unpredictable terrain of Iceland and Greenland. He quickly realized that there was something to this business of guiding. After somewhat exhausting his mountain resources in Iceland he traveled to the French Alps to seek some further experience. After that followed New Zealand, British Columbia, South America and the U.S.. He now resides in beautiful Leavenworth, WA with his wife and son during the fall and winter months. Einar mostly enjoys the vast expanses of glaciated and alpine terrain however he is slowly but surely gaining appreciation for the Cascade trees. He has multiple Ice-climbing first ascents in Iceland along with alpine and skiing first ascents and descents in Greenland. Einar has completed the Canadian Avalanche Associations Level 2, Module 3 training, he is a Wilderness First Responder and is actively pursuing IFMGA certification through the AMGA and is an AMGA Certified Ski Guide.
Joey Thompson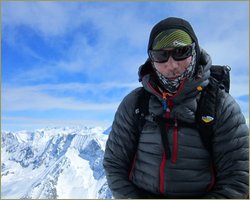 Joey grew up climbing and skiing in New York but his love of big mountains quickly led him west to Colorado, where he now lives with his wife Susan. Joey recognized the profound satisfaction that came with seeing and helping others enjoy mountain adventures the way he does. Through the education and training he received through the American Mountain Guide Association, Joey has made this his life's work. The AMGA recognized Joey as the 2013 Outstanding Guide of the Year for exceptional dedication to his mountain craft and clients. In 2014 Joey achieved International Federation of Mountain Guides Association status and became a fully certified American Mountain Guide, which is the culmination of many years of work and commitment to mastering the mountain guiding profession. Joey currently guides throughout the Northern Rocky Mountain from Colorado and Wyoming all the way to Alaska. Joey also guides in Thailand in the northern region of Chang Mai.
Like What you see? Share our site!